Posted by
m1k3y
on July 15th, 2011 in
activism
,
history
,
networks
,
rage against the machine
,
surveillance
From NYT, A Call To Take Back The Internet from Corporations:
"The sovereigns of the Internet are acting like they have a divine right to govern," said Ms. MacKinnon, whose book, "Consent of the Networked," will be published by Basic Books in January 2012. "They are in complete denial that there is something horrible they would ever do." She gave a preview of her book at the TEDGlobal conference in Edinburgh on Tuesday morning and in an interview.

…

Governments at this point rarely act directly to constrain the Internet; instead, their policies are mediated through privately owned and operated services, Ms. MacKinnon said. This is true of China, which maintains the famed Great Firewall that blocks sites like Twitter, YouTube and Facebook in favor of local services. But domestically, every year the Chinese government gives out "China Internet Self-Discipline Awards" to honor companies that voluntarily cooperate with its censorship policies. Baidu, which had been Google's rival in China before the search giant redirected China users to its uncensored Hong Kong site in 2010, has been among the honorees.

…

Although "we don't always do it very well," people generally know how to hold governments accountable, particularly in a democracy, said Ms. MacKinnon. However, it's still unclear how users can push back against private transnational companies on the Internet. The solution is most likely not for Congress or other lawmakers to pass regulations alone, she said. "It's going to require innovation that is not only going to need to focus on politics, on geopolitics, but is also going to need to deal with questions of business management, investor behavior and consumer choice," she said.

Ms. MacKinnon, who made a similar argument at the Personal Democracy Forum last month, said companies should start thinking of their users more as constituents who have a voice in the policymaking. Also, good corporate governance policies, like the ones that have become standard for clothing manufacturing companies, could become more widespread. Google, for example, regularly releases a transparency report, which lists how many requests for information it receives from each government. Google, Yahoo and Microsoft have helped develop a code of conduct around Internet freedom through the Global Network Initiative. However, Twitter and Facebook have not joined in, limiting the impact of the code.
Her PDF talk, The Consent of the Networked: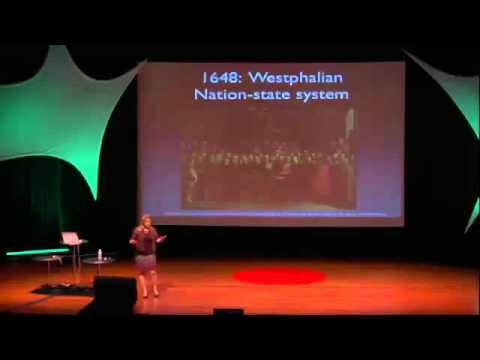 In short: "I AM NOT A USER, I AM A FREE MAN!"
via @sfslim
UPDATE:
The Guardian is hosting the video of her TEDGlobal talk (which is, as specified, an expansion of the PDF one):