Posted by
m1k3y
on November 8th, 2012
In which I string a narrative together from #OccupySandy / US Election / Eschaton coverage.
Power to the People : Occupy's afterlife — a dispatch from New York's dark zones by Sarah Jaffe:
The comparisons to Katrina have been everywhere, of course, but for me they hit home when, safe in my Crown Heights apartment that never even lost power, I saw friends and acquaintances who'd been involved with Occupy Wall Street tweeting their relief activities under the hashtag #OccupySandy. I couldn't help but think, as I watched them tweet their setup of a hub in Red Hook, of Common Ground, of Malik Rahim, of New Orleans' mutual aid after the storm, and how leftists and radicals (Rahim, a former Black Panther, learned about community care from the Panthers' free food and tutoring programs) step quietly into the spaces that are left vacant by the wrecking crew that's laid waste to social welfare programs and the churches and charities that Republicans keep telling us will step up to provide care.
Explaining #occupysandy in NY doing things FEMA, Gov, NYPD, Red Cross can't, Ada says: "That's because they're not used to taking orders."

— Quinn Norton (@quinnnorton) November 6, 2012
The magic of aggregate human attention is so strong that we can fix this world, we can exceed these troubles — but only together, not looking to leadership structures that have failed us again and again.

Humanity is amazing. It is the elemental magic of the world. You are the ground that can shake and rise under the fragile political structures of the Earth. You are the wrath of angry gods, you are the true storm a small and accidental system of power fears. As long as you keep believing you have to vote, and all your power is tied only to that vote, our leaders get to balance a pyramid on its tip and call it democracy.

Lay down the lie of the American ballot box, with its legal rigging, lobbying, revolving doors, gerrymandering, and even at moments outright fraud. You will have to ask yourself what is next? What do you believe, and how do you live out those beliefs? It is a scary and beautiful thing to live your beliefs.
Get out a sledgehammer and claim the real right you have to remake the system.  If you're not American, if you live in a place where your vote really can change the fundamentals of your world, great; go do that first and then act.  For everyone who lives in the US or a place like it where your vote is consent and nothing else, don't vote in the booth, vote in the street.  Don't consent to a poisonous system that isn't listening or let it confuse you into thinking the consent you give means anything.  Organize.  Strike.  Demand.  Whistleblow. Speak.  Build.  Rebuild.  Insist that the world treat you and those around you with decency, dignity, kindness, and equality.  Start by making sure you do the same to those around you.  Keep doing it until your vote matters again, and then keep doing it some more.

Do not consent to be governed by a man who would kill you in the street just because the other man would kill you in the street and piss on your corpse.  Do not consent to be governed by the system that made them.  Do not give your life to a machine designed to absorb it without a trace.
Teratocracy Triumphant? by Jamais Cascio:
I strongly suspect that, regardless of who wins the US presidential election today, the United States is likely to be entering a period of a crisis of legitimacy. If Romney wins, the claims of voter suppression and out-and-out shenanigans (this is a less ambiguous example) will potentially leave many Democrats incandescent with anger, even more so than after the 2000 Supreme Court selection of George W. Bush — because now it will be a "we can't let them get away with this again" scenario. If Obama wins, the already widely-extant opposition to his legitimacy as President among Republicans could explode; expect to see Twitter storms about secession and armed revolution, as well as the very real possibility of violence.
Donald Trump has a Grump:
…and the one he deleted:
MAGICAL THINKING WILL ONLY GET YOU SO FAR.#ThenRealityIntervenes

— Mark Pesce (@mpesce) November 7, 2012
Fox News, Karl Rove Argue Over The Outcome In Ohio: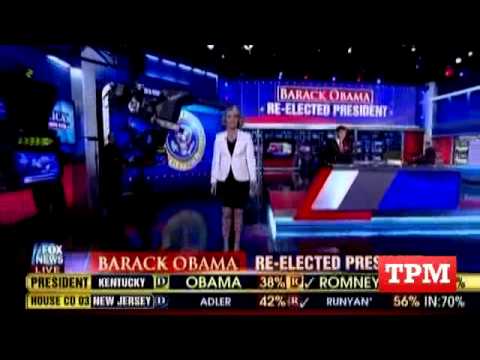 Imagine if Fox News was your only source of information right now.

— Matt Novak (@paleofuture) November 7, 2012
I'm told there are motels in Amerika where the tv's are only tuned to Fox News. This is what we mean by reality tunnels.
This is the Ontological Gulf. On the other side of the Abyss there are people that hate us.
Time's Up by David Gelernter:
We've seen an important (though far from decisive) battle in the slow-motion civil war the nation is undergoing: The blue states want to secede not from America but from Americanism. They reject the American republic of God-fearing individuals in favor of the European ideal, which has only been government by aristocracy: either an aristocracy of birth or, nowadays, of ruling know-it-alls — of post-religious, globalist intellectuals (a.k.a. PORGIs). As I've said before — many others have too — you can't graduate class after class after class of left-indoctrinated ignoramuses without paying the price.  Last night was a down payment.
More ideology from this theorist of the Right; Dismantling of a Culture:
 LOPEZ: And a "PORGI (Post-Religious Globalist Intellectuals) establishment." Is that to get you tea-party cred?

GELERNTER: If we don't understand who's running our leading colleges, we can't even begin to understand our own culture. Our most powerful colleges have gigantic cultural influence through their alumni, graduate, and professional schools (especially their law, journalism, business, and education schools) and their direct influence on sister institutions throughout the nation. So who's in charge? Once upon a time, there was a powerful WASP elite in this country. Obviously they weren't all the same, and obviously we can generalize (either that or we can't think). The WASP elite on the whole was politically moderate and Christian.

And what sort of people are running our powerful colleges today? Or are they so diverse, it is impossible to generalize?

In fact they're radically un-diverse. They're not all the same, there are dissenters, but culturally they are far more uniform than the old WASP elite ever were. You won't find lots of church-goers among them. You won't find lots of patriots. You will find plenty of intellectuals. You can call the PORGI establishment whatever you like, but there's no way around the fact that the culturally uniform, conformist group in powerful positions at top colleges are likely to be post-religious and globalist and intellectuals — or at least intellectualizers, would-be intellectuals. So call them whatever you like, but they're PORGIs to me.

LOPEZ: Why is that "post-religion" bit so important?

GELERNTER: Post-religious thinkers don't even live on the same spiritual planet as Protestant, Catholic, and Jewish Americans. Old-time atheists struggled with biblical religion and rejected it; modern post-religious thinkers struggled with nothing. Since the Bible and biblical religion underlie the invention of America, it's hard (unsurprisingly) for post-religious people to understand America sympathetically. Abraham Lincoln's Second Inaugural, the most sacred of American texts, is (precisely) a sermon describing North and South as equally guilty in God's eyes for the sin of slavery and, ultimately, for the war itself:

Fondly do we hope, fervently do we pray, that this mighty scourge of war may speedily pass away. Yet, if God wills that it continue until all the wealth piled by the bondsman's two hundred and fifty years of unrequited toil shall be sunk, and until every drop of blood drawn with the lash shall be paid by another drawn with the sword, as was said three thousand years ago, so still it must be said, "the judgments of the Lord are true and righteous altogether."

The quote is from Psalms 19; Reagan's famous "shining city on a hill" paraphrases the gospels. Expecting post-religious, Bible-ignorant thinkers to grasp America is like expecting a gerbil to sing Pagliacci. The gerbil might be brilliant in his way, but he'll never make it in opera. (If this be species-ism, make the most of it!) How can my post-religious colleagues and countrymen, many of whom have never even opened a Bible, understand Lincoln or America or Americans?
The Truth, such that it exists, is that the way one frames their enemy speaks far more to their own worldview. Just look at the depictions of the Gnostics by the early Christians. So at this point we may as well quote from an upright fictional work by a Globalistia Intellectual, a counter point scene from Cory Doctorow's Down and Out in the Magic Kingdom:
It was the second year of my undergrad, taking a double-major in not making trouble for my profs and keeping my mouth shut. It was the early days of Bitchun, and most of us were still a little unclear on the concept.

Not all of us, though: a group of campus shit-disturbers, grad students in the Sociology Department, were on the bleeding edge of the revolution, and they knew what they wanted: control of the Department, oustering of the tyrannical, stodgy profs, a bully pulpit from which to preach the Bitchun gospel to a generation of impressionable undergrads who were too cowed by their workloads to realize what a load of shit they were being fed by the University.

At least, that's what the intense, heavyset woman who seized the mic at my Soc 200 course said, that sleepy morning mid-semester at Convocation Hall. Nineteen hundred students filled the hall, a capacity crowd of bleary, coffee-sipping time-markers, and they woke up in a hurry when the woman's strident harangue burst over their heads.

I saw it happen from the very start. The prof was down there on the stage, a speck with a tie-mic, droning over his slides, and then there was a blur as half a dozen grad students rushed the stage. They were dressed in University poverty-chic, wrinkled slacks and tattered sports coats, and five of them formed a human wall in front of the prof while the sixth, the heavyset one with the dark hair and the prominent mole on her cheek, unclipped his mic and clipped it to her lapel.

"Wakey wakey!" she called, and the reality of the moment hit home for me: this wasn't on the lesson-plan.

"Come on, heads up! This is not a drill. The University of Toronto Department of Sociology is under new management. If you'll set your handhelds to 'receive,' we'll be beaming out new lesson-plans momentarily. If you've forgotten your handhelds, you can download the plans later on. I'm going to run it down for you right now, anyway.

"Before I start though, I have a prepared statement for you. You'll probably hear this a couple times more today, in your other classes. It's worth repeating. Here goes:

"We reject the stodgy, tyrannical rule of the profs at this Department. We demand bully pulpits from which to preach the Bitchun gospel. Effective immediately, the University of Toronto Ad-Hoc Sociology Department is in charge. We promise high-relevance curriculum with an emphasis on reputation economies, post-scarcity social dynamics, and the social theory of infinite life-extension. No more Durkheim, kids, just deadheading! This will be fun."

She taught the course like a pro—you could tell she'd been drilling her lecture for a while. Periodically, the human wall behind her shuddered as the prof made a break for it and was restrained.

At precisely 9:50 a.m. she dismissed the class, which had hung on her every word. Instead of trudging out and ambling to our next class, the whole nineteen hundred of us rose, and, as one, started buzzing to our neighbors, a roar of "Can you believe it?" that followed us out the door and to our next encounter with the Ad-Hoc Sociology Department.

It was cool, that day. I had another soc class, Constructing Social Deviance, and we got the same drill there, the same stirring propaganda, the same comical sight of a tenured prof battering himself against a human wall of ad-hocs.

Reporters pounced on us when we left the class, jabbing at us with mics and peppering us with questions. I gave them a big thumbs-up and said, "Bitchun!" in classic undergrad eloquence.

The profs struck back the next morning. I got a heads-up from the newscast as I brushed my teeth: the Dean of the Department of Sociology told a reporter that the ad-hocs' courses would not be credited, that they were a gang of thugs who were totally unqualified to teach. A counterpoint interview from a spokesperson for the ad-hocs established that all of the new lecturers had been writing course-plans and lecture notes for the profs they replaced for years, and that they'd also written most of their journal articles.

The profs brought University security out to help them regain their lecterns, only to be repelled by ad-hoc security guards in homemade uniforms. University security got the message—anyone could be replaced—and stayed away.

The profs picketed. They held classes out front attended by grade-conscious brown-nosers who worried that the ad-hocs' classes wouldn't count towards their degrees. Fools like me alternated between the outdoor and indoor classes, not learning much of anything.

No one did. The profs spent their course-times whoring for Whuffie, leading the seminars like encounter groups instead of lectures. The ad-hocs spent their time badmouthing the profs and tearing apart their coursework.

At the end of the semester, everyone got a credit and the University Senate disbanded the Sociology program in favor of a distance-ed offering from Concordia in Montreal. Forty years later, the fight was settled forever. Once you took backup-and-restore, the rest of the Bitchunry just followed, a value-system settling over you.

Those who didn't take backup-and-restore may have objected, but, hey, they all died.
Except this is not a war. It's a rescue mission. Just because someone hates us, doesn't mean we won't save them. The network doesn't think like the hierarchy. Back to the Rescue.
The New Revolution: The Grassroots Efforts of Hurricane Sandy Relief by Veronica Varlow
This is what I learned this week:  We are at the helm of our world community thriving or dying.  Know this.

Down at Beach 23 and Seagirt Blvd in the Rockaways, the five of us, jammed in a 1990 Mazda 323, on top of 2 generators and a pump to empty basements of water,  pulled up to a parking lot.

Sixty people came running to our car, surrounding it. "Do you have blankets? Please, we're freezing!"

We had two left to give.

I was not expecting this. We came out to pump out basements so the people can get power back without danger of electrocution or house fires.

Four of the small band of five of us, have had our houses burn to the ground with everything in it. I know that devastation first hand and I still was shocked at what I saw happening out there.

I wish my eyes had cameras so that I could show you what is going on right now. At Beach 23 and Seagirt Blvd, a neighborhood deemed dangerous – there is no media presence.

It is true.  We are the media. You and me.

I did not see FEMA there, I did not see the Red Cross. It was us.

It is people like Cory Booker, getting emergency updates from people on Twitter and running in to help. It is the grassroots movement of Occupy Sandy who are stepping in to help organize relief, it is the performers of the House of Yes who piled into an RV with supplies, food, and people ready to help.

People like you and me ARE the new emergency response.
The years ahead aren't going to be easy. Far from it. But together, we can do it!
Just listen to Robert Anton Wilson, from the audiobook discussing his book TSOG: