Posted by
m1k3y
on January 22nd, 2012
Here's the current title holder of the Comedian's Comedian, Mr Louis CK explaining the mess that is Civilisation and what The Fall of Man amounts to:
http://www.vimeo.com/36542350
Note: NSFW
During the Enlightenment the state of the human being was critically re-examined, and compared to its imagined origin, in a 'natural state' (ie. pre The Fall). Of particular note here is Rousseau and his Theory of the Natural Human; consider these words from its entry in the GreatWiki (emphasis mine):
Society corrupts men only insofar as the Social Contract has not de facto succeeded, as we see in contemporary society as described in the Discourse on Inequality (1754).

In this essay, which elaborates on the ideas introduced in the Discourse on the Arts and Sciences, Rousseau traces man's social evolution from a primitive state of nature to modern society. The earliest solitary humans possessed a basic drive for self preservation and a natural disposition to compassion or pity. They differed from animals, however, in their capacity for free will and their potential perfectibility. As they began to live in groups and form clans they also began to experience family love, which Rousseau saw as the source of the greatest happiness known to humanity. As long as differences in wealth and status among families were minimal, the first coming together in groups was accompanied by a fleeting golden age of human flourishing. The development of agriculture, metallurgy, private property, and the division of labour and resulting dependency on one another, however, led to economic inequality and conflict. As population pressures forced them to associate more and more closely, they underwent a psychological transformation: They began to see themselves through the eyes of others and came to value the good opinion of others as essential to their self esteem. Rousseau posits that the original, deeply flawed Social Contract (i.e., that of Hobbes), which led to the modern state, was made at the suggestion of the rich and powerful, who tricked the general population into surrendering their liberties to them and instituted inequality as a fundamental feature of human society. Rousseau's own conception of the Social Contract can be understood as an alternative to this fraudulent form of association. At the end of the Discourse on Inequality, Rousseau explains how the desire to have value in the eyes of others comes to undermine personal integrity and authenticity in a society marked by interdependence, and hierarchy. In the last chapter of the Social Contract, Rousseau would ask "What is to be done?" He answers that now all men can do is to cultivate virtue in themselves and submit to their lawful rulers. To his readers, however, the inescapable conclusion was that a new and more equitable Social Contract was needed.
Where Nietzsche speaks of his transcendant Übermensch being Beyond Good & Evil, as a counterpoint we have Rousseau's "Natural Human" being Before Good & Evil. This is what Terence McKenna speaks of as the Fall into History.
But the situation in this new Anthropocene Era leaves us with no 'natural state' left to return to. This is the subject of Bruce Sterling's Art+Enviroment conference keynote, finally extending upon the seed of an idea he left dangling in DISTRACTION (aka "the book that predicts Occupy Wall Street"):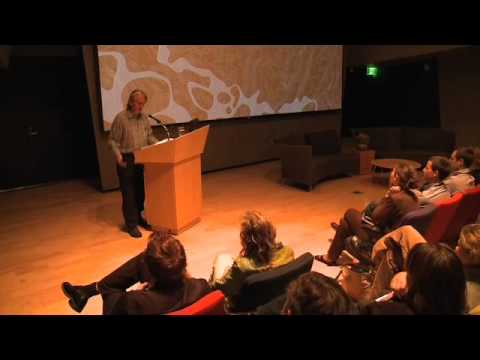 via THINKPROGRESS, which has some handy bonus quotes.
Which leads us where?
See also: