Posted by
m1k3y
on December 28th, 2011
Brazil just passed the UK to become the world's 6th Largest Economy. Keep that in mind as you read this story; Five Years After Banning Outdoor Ads, Brazil's Largest City Is More Vibrant Than Ever:
Imagine a city of 11 million inhabitants stripped of all its advertising. It's nearly impossible when the clutter and color of our current urban landscapes seem inextricably entwined with the golden arches of McDonald's or the deep reds of Coca-Cola.

Yet for the residents of São Paulo, Brazil, this doesn't require imagination: city dwellers simply have to walk down the street and look around to see a city devoid of advertisements.

…

Before being enacted, the law triggered grave alarm among city businesses and other economic constituents. Critics worried that the advertising ban would entail a revenue loss of $133 million and a net job loss of 20,000. Fears that the city would look worse without the mask of the media alarmed residents. Despite the concerns, the law passed and the 15,000 billboards cluttering the world's seventh largest city were taken down.

Five years later, São Paulo continues to exist without advertisements. But instead of causing economic ruin and deteriorating aesthetics, 70 percent of city residents find the ban beneficial, according to a 2011 survey. Unexpectedly, the removal of logos and slogans exposed previously overlooked architecture, revealing a rich urban beauty that had been long hidden.

…

No longer covered in homogenous and imposing signs, the unique character of São Paulo was able to resurface. Admittedly, not all of the revelations proved beautiful: shantytowns that pepper the city's streets, once hidden under massive signs, revealed gross inequalities. But bringing the situation to light incited residents to improve conditions and begin discussing solutions. No longer could actual problems be masked by artificial solutions.
This short documentary (via the above article) made in 2007, as the ban was being passed, elaborates on its history and motivation: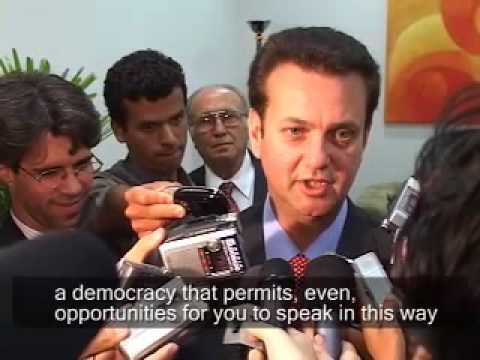 Meanwhile, elsewhere in South America…
For some residents of the Colombian city of Medellin, a trip to the city centre meant a long and dangerous trek through one of the city's most violent areas.

Ascending 384 metres, a new escalator project has changed that.

Al Jazeera's Gerald Tan reports.